In honor of the NSFNET's 35th anniversary, Internet2 and the Internet Society recently hosted a virtual event featuring remarks and discussion from several people who played key roles in the Internet's past and present. 
Among the participants was Vint Cerf, who was part of the Internet Hall of Fame's 2012 inaugural class for his role as the co-designer of the TCP/IP protocols. Since 2005, he has been a vice president and "Chief Internet Evangelist" for Google, promoting the Internet's capabilities.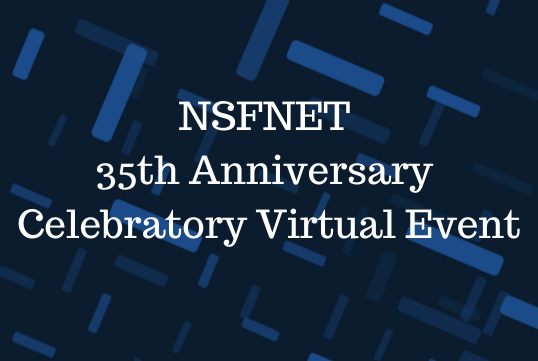 Cerf used the opportunity to encourage future generations to put those capabilities to the test by trying new things.
"If you're young, take the risky road," he said. "You're young enough to recover from it. You don't have to go out to change the world. Just go out and do something. You'll be surprised what happens if it works."
Cerf helped kick off the event with a conversation with former Vice President Al Gore, who was also inducted into the inaugural class of the Internet Hall of Fame, in 2012, for his role in securing critical funding that enabled the Internet's commercialization.
Prior to taking office as Vice President in 1993, Gore represented Tennessee in each chamber of the U.S. Congress. During his legislative tenure, he was a key proponent of sponsoring legislation that funded the expansion of and greater public access to the Internet. Instrumental in helping to create the "Information Superhighway," Gore was one of the first government officials to recognize that the Internet's impact could reach beyond academia to fuel educational and economic growth as well.
During the conversation with Cerf, Gore noted that the ongoing pandemic has helped spur further innovation as people attempt to stay connected while staying home and minimizing further spread of Covid-19.
"The pandemic for all of the dark tragedies and policy failures, it has simultaneously accelerated many changes that were already underway," he said. "Even though you [Cerf] and I have been using this technology for so long, I don't think I fully appreciated how use would expand when we had these lockdowns. It's incredible."
The event also featured Dennis Jennings, the founding director of the National Science Foundation's networking initiative, who recounted the history of the NSFNET and his vision 35 years ago to create a vast "network of networks" that would connect scientists all over the world to knowledge – and each other.
Jennings, inducted into the Internet Hall of Fame in 2014 for this work, noted how resonant this vision still is today, and praised a network that has continued to function effectively even as the Coronavirus pandemic has forced millions of people to work and attend school online, remarking in his final comments, "I told you this Internet thing would catch on."
Watch the livestream here: https://livestream.com/internetsociety/nsfnet35