As the oldest of five children growing up in El Salvador, Rafael "Lito" Ibarra was always interested in how things worked. Whether making robots with cardboard boxes and metal cans, or exploring his love of mathematics, it was clear that he was on a technical track.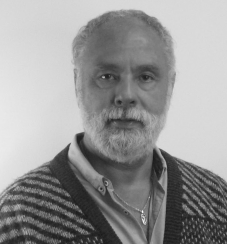 He earned his electrical engineering degree in 1982 from San Salvador's Universidad Centro Americana José Simeón Cañas (UCA), while also teaching math and physics at the local high school. He fondly remembers these teaching days and still keeps in touch with former students.
Ever the builder with a fascination for technology, Ibarra assembled his first computer, a Sinclair ZX80, from a kit purchased in San Francisco, California during his wedding celebration in 1982. It now resides in the Museum of Internet and Information Technology as an example of early computer technology.
Ibarra's first job after graduation continued to lay the groundwork for his life-long interest in technology. As a maintenance engineer for NCR in El Salvador, and in order to obtain his Engineer's degree, he was tasked with designing and building an interface between a large NCR printer and an HP mainframe computer. "NCR was going into computers and needed engineers to compete against IBM. I went for training to Dayton, Ohio, and again took the opportunity to buy computer microprocessors and other equipment I couldn't find in El Salvador."
While studying for a second degree in business administration, Ibarra took a position at Texas Instruments' in-country plant. "I was in charge of several technicians who provided maintenance for equipment that tested chips and voltage regulators. I also traveled to Dallas, Houston, and Plano for training. When the company closed the plant in 1985, because demand for chips was low, I declined the offer to relocate to the United States. I believed then and still do that my country needs the support and work of professionals like me."
Staying in El Salvador led to a decades-long position at UCA where Ibarra became head of the Information Technology department. In April 1993, the Organization of American States invited Ibarra to a workshop on TCP/IP protocols in Costa Rica. At that workshop, that country initiated their own connection to the nascent Internet. "A small group, maybe 30 people, saw it happen," he says. "I was lucky to go to that workshop, and I'm the type of person who works hard to take advantage of opportunities. When I got back home, I was determined to have El Salvador connected, too."
But many of his colleagues at UCA dismissed his vision as nothing more than a pipe dream, especially for a small, developing country. "Nobody believed what would happen. But I was impressed and had experience with these types of communications when I was with Texas Instruments where we used the telephone for data communications, which was not as flexible," he adds.
One of Ibarra's first steps in manifesting El Salvador's connection to the Internet was to reach out to Jon Postel (2012 Internet Hall of Fame inductee), asking for a roadmap. In return, Postel designated Ibarra to manage .sv domain names and a block of 65,000 IP addresses for the country.
At the same time, Ibarra started discussions with the local Public Telegraph and Telephone company to talk about the early uses of the Internet. And, in December 1995, through these efforts, Ibarra was able to send a message using the first email address for El Salvador, something he considers his greatest professional achievement. That same year he conceived in his mind the non-profit Asociación SVNet, which he legally founded in 2004, to keep .sv domains free for Salvadorans for 8 years, and in 2000 he began establishing community-based cybercafés (Infocentros) to promote public Internet use.
In 2005, as Ibarra's vision and influence began to be felt throughout Latin America and the Caribbean, he bolstered his bona fides by earning a Masters in New Technologies of Information and Communications from Universidad Nacional de Educación a Distancia in Spain. And as the founder and leader of several Internet institutions, he's served on the boards of the Internet Corporation for Assigned Names and Numbers (ICANN), Latin American and Caribbean Association of Top Level Domains (LACTLD), Latin America and Caribbean Network Information Centre (LACNIC), and Latin American Advanced Networks Cooperation (RedCLARA). Known now as the Father of the Internet in El Salvador, he has received national and international recognition, as well.
"I like that the Internet has facilitated many people creating new things – not just applications, but protocols, security devices, etc. Of course there is the dark side, but there's creativity there, too. Technology is neutral. In all cases, we need to educate people about what happens on the Internet – that they are not alone there, can be traced, etc. We can teach them to be good digital citizens. What I appreciate most is that the Internet is not regulated by governments per se, and still has humanity debating what is useful, needed, good, and how to prevent bad things," he says.
Since 2014, Ibarra has served as President and Executive Director of Asociación SVNet, which still manages the .sv top level domain and IP addresses for the country. In his free time, he's ever the creator – constructing glass mosaics and wood burning art, learning to play the violin, and supporting young people in learning new technologies.