Dorcas Muthoni has proved those attitudes wrong, and in doing so has proved an inspiration to girls and women across the continent and beyond.
Muthoni, the founder of AfChix, an African-based organization designed to encourage girls and young women in Africa to take up careers in tech, says simply, "I like to help people to reach their full potential." AfChix activities include organizing annual Computing Career Conferences to demystify computing.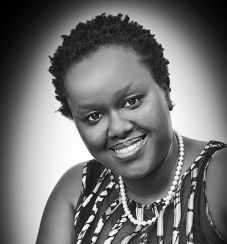 "A big challenge is the lack of information many high-school girls and college women have," she says. "They need to know that computer science requires you to be on top of things every minute, because it's constantly changing. You have to keep up. Still, with the right skills and information, you can go anywhere. I try to tell them, 'You can do it,' and show them how."
Muthoni, who became a mother for the first time earlier this year, is the perfect role model for AfChix conference attendees. In high school, she wanted to be an architect, but when she learned that getting an architecture degree would take six years, she figured that a computer science degree, which only took four years, might be a better option. She could always go back and become an architect later.
"I already knew that you need to master computing in order to go into modern architecture, as well as many other careers," Muthoni recalls. So, instead of studying architecture, she studied – and excelled in – computer science at the University of Nairobi, and then got her first job that required her to use Open Source software.
"I had no experience with Open Source, so I was shocked and amazed at what existed already and I wanted to let others know about it, too," she said. "In 2003, a year after I graduated from college, I was invited to speak about it at a daylong conference of members of the Kenyan telecom industry. I had no experience standing in the front of the room like that, but I overcame my fear and told them how Open Source is good for this country, and how Kenya at that time was lagging behind in developing software solutions for business." Buoyed by the positive feedback (and the standing ovation she received) for her speech, Muthoni a year later founded and has served ever since as CEO of OPENWORLD LTD, a leading Open Source, e-Government and business technology solutions firm in the East African region. It's also a software consultancy providing a wide range of services.
Muthoni is no stranger to risk, and has shown no fear of it.
"When I thought of creating OpenWorld, I had a contract with my employer for another 1 ½ years, but I opted out not to renew. It was a 110% risk," she says with a laugh in her voice. "I'm not sorry I did it."
She drew inspiration from the example of her heroine, the late University of Nairobi Professor Wangari Maathai. In 1998, the repressive Kenyan regime was giving land to political allies in a protected forest on Nairobi's outskirts. Prof. Maathai began a campaign to reclaim the land by planting trees on it. Her efforts culminated in a confrontation with 200 hired thugs who attacked her and her cohorts with whips, clubs and stones. Undeterred, she went on to found an organization that planted 30 million trees in Kenya and inspired the U.N. to launch a campaign that resulted in 11 billion trees being planted worldwide. In 2004, Maathai became the first African woman to win the Nobel Peace Prize.
Out of love and respect, Muthoni attended Maathai's funeral. "She literally risked her life for what she believed in," Muthoni noted. "She motivated me to devote myself with an equal passion, to helping African girls and women, as well as anything I touch."
Muthoni is succeeding. The AfChix Conference always draws about 300 high school girls and college women, and the latest, in May 2014, drew more than 400 to the Catholic University of Eastern Africa, to see what they can achieve by devoting themselves to the study of computer science and information technology. Their best example might well be the woman at the front of the room: Dorcas Muthoni herself, who was inducted into the Internet Hall of Fame as a Global Connector in April 2014.