When he actually got to use a computer—in 1979—he knew he had found his passion.
A few years later he met the Internet, which became his career-long focus.
Dias was inducted into the Internet Hall of Fame in 2014 as a Global Connector for his role in setting up and the running the academic Internet in Sri Lanka, which started with the country's pioneering e-mail system, LEARNmail.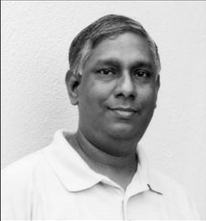 He was also instrumental in setting up the country's top-level domain registry, .lk and was the founder-president of the Lanka Academic Network, or LAcNet, a nonprofit dedicated to providing Internet access in Sri Lanka. LAcNet gave Lankan expatriates a way to keep in touch with their homeland.
So what stands out most from a 30-plus year career with a list of achievements that would make anyone proud? Getting Sri Lanka's e-mail system—and then Internet—running, Dias reflected recently in an exclusive interview with the Internet Hall of Fame.
"What we did right at the beginning was a key achievement because it is really difficult to get people to understand the benefits of Internet, especially to get them to provide money or other resources, when they have no experience in what you are talking about," he said. "Once we had the first networks it was easy to show it's working and the services we are providing to this many people and say we need more money to expand it."
In the beginning, he recalled, the only people who knew what the Internet was were those who, like himself, had been to other countries to study. His first encounter was in 1986, while on a scholarship at the University of California, where he got his master's and doctorate degrees.
Hence, the initial focus on e-mail, which did not require constant connectivity in a time when the information passed through dial-up telephone lines, and even local calls, were somewhat expensive.
So they created a store and forward system, where you could type your e-mail, then connect to send and retrieve, then disconnect, read your incoming mail and then connect again. "We used the then-popular UUCP protocol, which was designed for this purpose. Not only that – we had clients who showed up physically with diskettes in their hand," he said. "Today, people would be flabbergasted, but that's how it worked."
They also created a system that scoured various sources for news on Sri Lanka and maintained a mailing list to share updates with interested people around the globe. "This was a precursor to today's social networks," Dias noted.
In the 1990s, they moved from store-and-forward e-mail to the country's academic network, LEARN, which today still connects academic bodies across the country through fiber optic networks.
As part of the process of setting up e-mail, Gihan also secured the .lk domain from Jon Postel, who served at the time as administrator of the Internet Assigned Numbers Authority (IANA). Dias managed the registry at the University of Moratuwa until it was incorporated as a national non-profit organization in 2005, and continues to oversee it today.
Gihan attributes much of his success to support from the Internet Society (ISOC), of which he remains an active member.
In 1995, he attended his first ISOC networking workshop for developing countries, held in Prague.
"It was a really fantastic experience," Dias said. "They taught us how to build the Internet."
Since then, he has gone to ISOC workshops, has sent colleagues to workshops, and has also been a resource person.
"That was a big part of my life. I found that the Internet Society was doing something very important."
Today, he is the Past President of the local ISOC chapter, which he says is "focused on cybersafety and making the Internet better for everyone."