"Work is what I like," she says with a smile. "It is not really work for me. It is a pleasure to study, to discover new things."
Studying, discovering and teaching new things are what Tarouco has consistently done during a long and distinguished career that has brought her admission to the Internet Hall of Fame.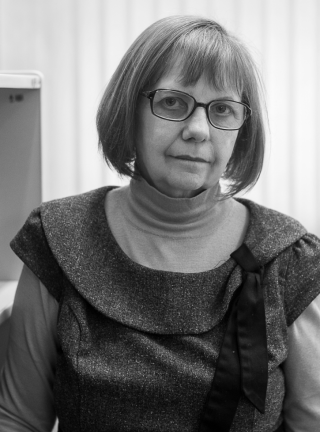 From her initial book – the first text on computer networks to be published in her native Brazil and still regarded as a kind of Bible there – to her research, teaching and consulting throughout South and Central America, Europe, Africa and Asia, Tarouco has been among the very top contributors to Internet development.
"Since the beginning, when I started to see what could be done with networking, I dreamt of having a network that involves us all and could help us make better decisions in every aspect of our lives," she said. "And that is becoming a reality more and more."
While Tarouco's stellar career has been international in scope, her origins are more provincial.
She spent her early childhood in the south Brazilian town of Cerro Largo, "a really, really small place at the time," Tarouco said, and the family then moved several times to other small towns before settling in the regional capital of Porto Alegre.
Her father was a tax auditor for the federal government, and her mother was a seamstress, working, as Tarouco puts it, "on Singer dresses."
"She made clothes for sale and for the family, beautiful clothes," Tarouco said.
There were five daughters – four of whom survived into adulthood – and Liane was the star pupil among them. Foreshadowing her future as an academic, she took her studies seriously from the start, mindful of her parents' admonition to "study first, play after."
"This was not a problem for me," she said, "because I liked to study."
While a conscientious daughter, Tarouco also displayed a strong independent streak, a trait that, she says, she retains to this day.
Sent to school at the age of 3, for example, Tarouco wanted instead to be at home with her younger sister. So she ran away.
"The nuns woke up and said, 'Where is Liane? Where is Liane?" she said. "I was walking far away, trying to find my way home.
"I was not the kind of person who constantly said, 'I want this, I want that,'" she added. "But when I really wanted to do something, I did it."
School may have held little appeal for the three-year-old, but within a few more years it became clear that Tarouco was an eager and gifted student, with a special affinity for mathematics.
"I just liked it," she said. "I liked that it was a challenge, but I also found it easy to learn."
Nor did it hurt that her parents valued learning.
"My father was always watching for my school results, always keeping an eye on my studies," Tarouco said. "And when we moved from city to city, we always looked for a house located near a good school. My parents always said that education was a very important thing."
By the time she was ready for college. Tarouco's interest had evolved from math into physics.
"Science was something that made my eyes bright in high school," she said. "I was attracted to physics because I liked to fix things, like motor cars, and I liked to do experiments in the laboratory. I saw NASA was doing big things, and my dream was to work in NASA."
Planning to major in physics, Tarouco enrolled in Brazil's premier state-run university, the Federal University of Rio Grande do Sul in Porto Alegre. The physics classes there proved disappointing – they were, she says, more theoretical and less hands-on than she had imagined. But her life changed in 1968, during her second year at the school, when she was asked to join a course on programming.
"As soon as I got in that course I said, 'This is what I want to do,'" she said. "I was in love with computation. It changed my life."
Initially, Tarouco used that newfound love to help her physics professors create computer programs. Then, as she advanced through graduate school to get her MSc and PhD, she began to teach computing at the university.
And beginning in the early 1970s, she turned her talents toward computer connectivity – influenced initially by a class taught in Brazil by Internet pioneer (and fellow Hall of Famer) Leonard Kleinrock, the UCLA professor who had established the ARPANET by sending the first transmission packet between UCLA and Stanford.
Tarouco's burgeoning interest in connectivity soon got a local application. The federal university had purchased a mainframe computer so large that it had to be installed on another campus two miles away.
"It was batch computing, but with no network," she said.
Through a process of trial-and-error, Tarouco and her colleagues succeeded in connecting the remote site to the main campus and in so doing designed the first modem in Brazil.
Buoyed by that early success, Tarouco helped draft an initial scheme for connecting computers throughout the Brazilian university system. The project developed gradually through the 1980s and 90s, hobbled by the need for funding and the phone company's monopoly on transmission, but it was finally realized with support from the National Science Foundation. Continuing to develop computer networks throughout the country, Tarouco was instrumental in the creation of Brazil's Internet "backbone," the National Research Network, 1992.
She was also chairman and worked in the implementation of the state network (TCHE network in Rio Grande do Sul) in 1993 and in the metropolitan area network (METROPOA) begun in Porto Alegre in 1999. Both were academic networks allowing access to universities in the region.
Meanwhile, her seminal textbook "Redes de Comunicacao de Dados (Data Communications Networks)", published in Portuguese in 1977, was used to educate a whole generation of computer students in Brazil.
While Tarouco has spent much of her life at the university, teaching and researching, she has also traveled widely to provide training and to speak at conferences in the U.S., Central and South America, Portugal and Mozambique. In 1983 she was Brazil's representative to the International Federation for Information Processing – Technical Committee in Data Communication (IFIP-TC6). And for a time she also ran a consulting company to help banks and other large companies with computing.
Tarouco's love of computing is actually rivaled by her devotion to family. She met her husband, a teleprocessing technician, when the two worked on IBM tabulating machines in a data processing center in 1969. Together they have a daughter, working in the field of graphic design.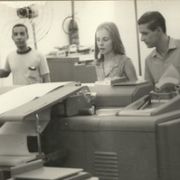 And for Tarouco, family ties go far, far beyond the immediate household.
As with many Brazilians, Tarouco's roots are in Europe – but in her case, they lie in
Germany, not Portugal. (Tarouco's maiden name was Rockenbach, and her mother's surname was Dillenburg). In 1829, Tarouco's great great grandfather emigrated from what was then Prussia. Some years later, three other family members also emigrated to the state of Rio Grande do Sul. Despite that ancestry, Tarouco grew up speaking Portuguese, not German.
"I was born after the war," she said, "and my mother was quite scared because of the persecution that happened during the Second World War to Germans. They were forbidden to speak in German. They couldn't have books in German. So my mother didn't teach me."
Language aside, the family in Brazil has held on to its common ancestry, even as it has grown exponentially.
Today, said Tarouco, who acts as the family's webmaster, the descendants of those initial four number 19,000 in Brazil. Hundreds of them come to a family reunion each year, where a Catholic mass is followed by an enormous barbecue and dancing.
In her spare time, Tarouco also loves to travel – to the mountains in Brazil, and in America to Las Vegas ("not for gambling, but for lights and fountains"), Orlando, Miami and Denver ("at the top of the mountains, you see snow, which is nice because we don't have snow").
Meanwhile, with 50 years at the university and a career that effectively spans the history of digital communications, Tarouco still teaches a full course load and publishes a dozen articles a year. In her career, she has published seven books and delivered several hundred papers. And she hasn't stopped researching and learning.
"I like to grow, so I'm now investigating metaverses and creating virtual laboratories for teaching science," said Tarouco, who is using MIT's SCRATCH animation program to help young students conduct experiments.
And if she has any ambivalence about the current controversies surrounding cyberspace, it's not readily apparent.
"The Internet is a good thing," she says flatly. "Whether it's shopping or travel or even health, the Internet gives us the information we need to make good decisions."
To be sure, Tarouco will acknowledge that the Internet's growth poses problems of privacy and security.
"I know there is disinformation, and security issues can be a bit scary," she said. "We have to be cautious about what we do.
"But it's a burden we have to deal with," she adds, "to teach the kids to see the emotional and physical traps and avoid them. And that was also true before there was an Internet."
Ultimately, Tarouco said, it falls to the individual to avoid the web's pitfalls.
"I can exercise my filtering to decide what is misinformation, what is true, what is half true," she said. "Just like when I was a kid, I don't accept someone else making decisions for me. I can make them myself."