He takes as much pride in this moniker as he does his actual progeny. "In the past I was working so hard I did not have much time with them. We now have six grandchildren and I would like to spend time with them."
The demanding work to which Gruntorád refers is the more than 30 years he has advocated for and promoted electronic connectivity in the scientific and education communities in what was once Czechoslovakia, now the Czech Republic, and the former Iron Curtain countries of Eastern Europe. In 2021, he officially retired from his position as Managing Director of CESNET, the association of universities of the Czech Republic and the Czech Academy of Sciences that he helped found three decades earlier. CESNET developed and continues to operate the Czech national computer network, data storage and collaborative environment that comprises the country's e-infrastructure for science, research and education.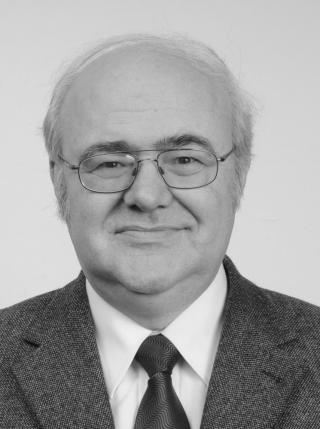 If this one area of focus were not enough to bring national and international prestige, Gruntorád was also one of the founders of CEENET, the Central and Eastern European Networking Association in 1998. This organization educated national governments on the importance of having network infrastructure, and trained engineers in computer networking and how to build Internet capabilities in their home countries – including former Soviet republics.
"During that period [1998-2003], I intensively worked on introducing and improving Internet services in the research and development environment. I also served as a consultant for NATO in the area of the Caucasus and was responsible for upgrading the IP network for the R&D community in Azerbaijan." he says.
He also represented the Czech Republic on the Board of Directors of EBONE, the pan-European Internet provider based in Copenhagen, and was a member of the Board of Directors of DANTE (now GÉANT), operating a pan-European academic network. Gruntorád helped establish independent Czech organizations administering the national domain CZ.NIC and the neutral peering network node NIX.CZ. In 2016, he received the international Vietsch Foundation Medal for his significant contributions to the research and development of advanced Internet technologies for the support of science, research and higher education.
It was fellow Internet Hall of Fame member and one of the creators of the Internet, Vint Cerf, who first called Gruntorád "the father of the Internet in the Czech Republic." Though now retired, Gruntorád is still lending his expertise to CESNET to wrap up projects integrating all IT services for Czech research and education communities.
"We're providing networking services and participate in developing and operating the cloud and storage center at the University of Brno, integrating these services with other Czech universities. We've already upgraded the optical network capabilities and the IP infrastructure, and installed new, faster routers. These upgrades will be done by the end of 2022. The current backbone is not fast enough for transmitting the results of supercomputers. The demands of the users require higher speeds for their current applications," he says. And, while Gruntorád currently serves on the board of e-IRG, a strategic body that facilitates integration in European e-infrastructures and connected services, within and between member states, at the European level and globally, he adds, "this work needs to be done in a way that there is no interruption of services. Then I will really retire."
Gruntorád grew up and attended school in the Moravian city of Olomouc about 250 kilometers east of Prague. The town is known for its majestic Holy Trinity Column monument and church, a UNESCO World Heritage site built in the early 1700s, as well as Palacký University, the second oldest in the Czech Republic. This was fortunate for a child in the 1960s, when the country was under Communist control, Gruntorád was able to study English. His facility with the language landed him a four-month fellowship in Denmark as he was studying for his PhD in electrical engineering at the Czech Technical University in Prague.
"During my studies, I focused on control systems for production lines in factories, mostly related to robots," he says. "But I turned to data communication and computer engineering after I was one of ten engineers selected to go to Great Britain for training on the ICL 4-72 [an early mainframe with communication capability via analog telephone modems]. At this time in the mid-1980s it was very difficult to travel to the West, and I appreciated it as a young university graduate." He was also able to spend time researching computer networks in Denmark in 1988, finishing his PhD in 1989.
By that time, Gruntorád was already head of the Data Communication and Computer Networking department of the Czech Technical University's Regional Computing Centre (URCC). "We were always trying to get access to the latest modem technologies. It was difficult to buy programs and components from abroad, and we needed to buy them with hard currency, which was also difficult to obtain. That's why I went to study in Denmark in 1988, and the process to go there was difficult. But I could get access to the latest technology there."
At a Copenhagen conference, Gruntorád came across what we today would recognize as the Internet for the first time. He says he was surprised to see attendees typing on terminals and discovered that they were sending emails. When he asked conference organizers if he could get an email address, he was told there was no point. Back in Czechoslovakia, he wouldn't be able to use this new technology to contact anyone.
"After my return to Prague, I convinced the university to write to EARN [European Academic and Research Network] asking for a connection for our mainframe. We received a polite answer telling us unfortunately it was not possible to connect to our computers because of political regulations."
Less than a year later in November 1989, the Iron Curtain fell. By early 1990, Gruntorád became Czech national director of (EARN), responsible for setting up the connected network in Czechoslovakia. Their goal to establish a handshake between the Czech Technical University's mainframe computer and a university in Linz, Austria via the Internet was achieved in December 1991. On February 13, 1992 he organized the official opening of Internet services in Czechoslovakia. The rest, as they say, is history.
Today, thirty years after his country gained Internet access, Gruntorád reflects on the evolution of this innovative technology that has changed the world.
"I could never imagine when we were connecting academic mainframe computers that we would have computers at home. Back then the speed was so slow, the main services on the Internet were emails, and that was very limited. There was little local content and what was there was mostly in English and from the United States. We only thought about it as a service for researchers and scientists. There was no multi-media, no pictures or video. It was difficult to imagine that people could or would use these facilities from home."
As to the future of what he called "the free-wheeling Internet," in his Internet Hall of Fame acceptance video, he's both excited and cautious. "The Internet is such an open structure where everyone can come, everyone has proposals, and the best technology is chosen by democratic process with no politics behind it. Engineers are very pragmatic, they want the best proposal accepted, regardless of which country it comes from. That is really what moves the Internet forward.
"Even now, the largest volume of communication via CESNET is between scientific instruments – the Internet of Things. This big data needs processing and storage. This phenomenon of machine-to-machine communication – some people criticize it and think the Internet should be primarily for humans. But in the future, I see a combination of both, because the Internet is so flexible that it can manage both kinds of traffic. We still have many problems to face – security, cyberattacks, etc. Work needs to be put in that area to make the Internet safe. The original designers of the Internet did not think of such problems as spam or cyberattacks. This is the challenge so that the Internet is still safe for communication between both humans and machines."