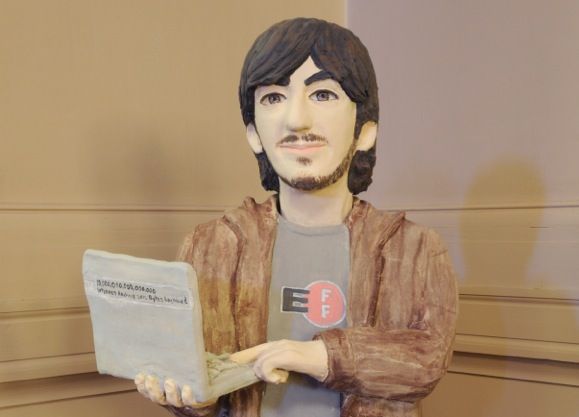 Kahle had the sculpture created to honor Swartz, who helped Kahle establish the archive's Open Library project, which digitizes books from all over the world and makes them available for free. Swartz, who shared Kahle's passion for providing universal access to knowledge using the Internet, wrote the backbone of the Open Library and launched its first website.
The sculpture was installed in July among about 80 other "terra cotta archivists" at the archive's headquarters inSan Francisco. Internet Archive employees of three years or more have their likeness sculpted in terra cotta and displayed there, as a permanent record of their devotion to the ideals of openness of information on the Internet. The mission of the Internet Archive is to digitize and offer universal access to all knowledge ever produced by human cultures. (As of October 2012, its digital collection topped 10 petabytes.)
The sculpture of Aaron has him holding an open notebook with something he once said written on it: "Be curious. Read widely. Try new things. I think a lot of what people call intelligence just boils down to curiosity."
Today, through the work Swartz did with the Internet Archive, and the many other open source initiatives he undertook during his lifetime, the curiosity of millions can be satisfied and explored. And Swartz's terra cotta likeness will long be a reminder of his contributions.
Read more about Aaron Swartz in the Internet Hall of Fame's recent historic profile.