"Aaron is one of us."
That's how Internet Archive founder Brewster Kahle feels about his fellow Internet Hall of Fame inductee, Aaron Swartz.
Note: Not, "was" one of us, but "is" one of us. Even though Aaron had been gone for half a year at the time Kahle spoke these words.
When Aaron Swartz died in January 2013 at the age of 26, his ideals and his achievements had already put him in the company of Internet luminaries twice his age. For these achievements, he was inducted posthumously into the Internet Hall of Fame on Aug. 3 in Berlin.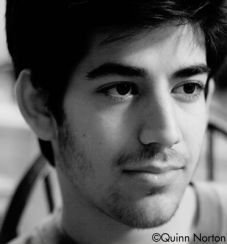 "His age didn't matter," Kahle said. "On the Internet, you're judged by your contributions." And these contributions were many.
Though Swartz is perhaps best known for his role as a co-owner of Reddit (his wiki application, Infogami, provided the framework for Reddit's early success), it's the public advocacy and open-source initiatives Swartz undertook that were the most important, according to his father, Robert Swartz.
"It's hard to predict what people in the future will think his greatest accomplishment was. But the very fact that he used the Internet to influence legislation, working in people's interests and beating back Big Money, was definitely one of them," his father said.
A major illustrative example: Swartz founded the million-member, online public advocacy organization Demand Progress, a nonprofit aimed at increasing civil liberties and ending government corruption. Most notably, Demand Progress helped stop SOPA and PIPA (Stop Online Piracy Act and the Protect Intellectual Property Act), two bills that would have given government and corporations power to block access to websites that are accused of copyright infringement.
He also worked with Lawrence Lessig, Roy L. Furman Professor of Law and Leadership at Harvard Law School, to found the nonprofit Creative Commons, which minimizes barriers to reusing research and educational materials. Swartz wrote the code layer for the free Creative Commons licenses that are now used worldwide to promote the free sharing of creative works as an alternative to the restrictiveU.S.copyright system.
"Aaron's life was an expression of service. He did what he did because he believed it was right. And what he did pushed all of us to make the net, and hence us, better," said Lessig.
In addition, Swartz collaborated on the project that led to the creation of RSS (Rich Site Summary), a web-feed format that facilitates publication of frequently updated works like headlines and blogs.
And he helped Kahle establish the Internet Archive's Open Library project, which digitizes books from all over the world and makes them available for free. The mission of the Internet Archive—to offer universal access to all knowledge—had captured Aaron's imagination, and he began to work with Kahle when they realized they shared this passion.
In 2008, Aaron downloaded 2.7 million federal court documents, in an effort to make them available for free outside of the fee-based PACER (Public Access to Court Electronic Documents) system. The FBI investigated but dropped all charges, since the documents were public. These documents are now available for free on the Internet Archive.
"Aaron wasn't an institutional man. He was comfortable working with people from many walks of life, many institutions and many organizations," mused Kahle. "Aaron lived an open-source life. He believed in the goals many people espouse, but he didn't just espouse them – he lived them."
Read more about Aaron's work, find out how other inductees are honoring his legacy, and hear his father, Robert, accepting the award on Aaron's behalf.