That's what Nabil Bukhalid did in the late 1980s and early 1990s with an ad hoc group of colleagues at American University of Beirut (AUB), turning what began as an effort to get faculty access to medical journals over computer networks into a full-fledged effort to connect the country to the Internet. 
Bukhalid was trained as an electrical engineer, "during the early phases of computing, back when we used to build computers rather than use them," he said. He began looking at networking in the late '80s and early '90s while developing his specialty in biomedical engineering.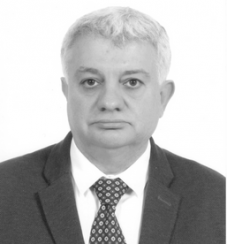 "Medical devices were starting to connect to networks then," he said, and he began looking at connection options to help researchers and doctors in the war-torn, resource-lacking country gain access to a new online library for medical journals.
"We had no infrastructure, no government," he said of his early efforts. "Even when the civil war ended we had no government and the infrastructure was completely destroyed. We had no electricity. The war made us a bit creative."
Still, he found himself in a catch-22. Without a proper phone line or modem, he was unable to gain an IP address. But while visiting family in Canada he heard about an Internet Society camp at Stanford, so he applied and was accepted.
There, he met Internet pioneers like Vint Cerf, Jon Postel and Randy Bush. He said they were instrumental in helping him and his team in Beirut work around the barriers, establishing an IP address on Bush's computer in Oregon and using Dutch and French telecom services to create the first network that ultimately gave AUB access at the end of 1993.
From there, Bukhalid said that he and his colleagues created a dial-up service, offering accounts free of charge for research and governmental entities. "That led to the creation of a full-fledged ISP by the mid-90s," he said.
"I believe we were probably one of the only countries where everything was done without the government being involved," he said. "And that was not all. Rather than facilitating, they were always blocking us. So we had to get around it by creating this ad hoc service that they could not pinpoint on any one person."
Asked if that was a bit scary at times he said, "There were some situations that were frightening. But when you live your whole life in a war zone, you don't assess things the same."
Bukhalid was inducted into the Internet Society's Internet Hall of Fame for leading the team that brought the Internet to Lebanon. He also established the Lebanese Domain Registry (LBDR) and has served as an administrator and registrar for the .LB ccTLD since its creation in 1993.
Bukhalid is the founder of the Lebanese Academic and Research Network (LARN), co-founder of the Lebanese Broadband Manifesto Support Group (LBSG), and BeirutIX, the first Internet Exchange Point in Lebanon.
He is also a co-founder and ex-president of the Internet Society Lebanon Chapter, co-founder and CEO of the Lebanese Internet Center and advisory board member of the Lebanese Canadian Tech Hub.
Bukhalid left the American University in 2012 to become a consultant but he continues to run Lebanon's domain registry and is active with the Internet Society.