But as a minority born in New York City's housing projects whose first job on Capitol Hill was with the late Rep. Mickey Leland, a tireless champion for the underprivileged, it didn't take him long to see both the benefits and the dangers the Internet posed to society – particularly as it related to the 'haves' and the 'have nots.'
Internet pioneers had also identified the potential access problems, which early technologists had dubbed the 'Digital Divide.' But it was Irving's laser focus on both measuring and closing that gap that have made his name almost synonymous with the term.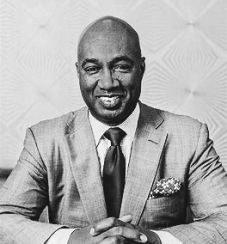 It's a mission he has remained committed to over the past two decades, and one that earned him a spot as the first African American in the Internet Hall of Fame.
"Larry was among the first to note that 'the divide between those with access to new technologies and those without is now one of America's leading economic and civil rights issues," Chris Lewis, president and CEO at Public Knowledge said after Irving's induction. "That formulation has been repeated numerous times by others in the intervening two decades both inside and outside the United States, and it laid a foundation for examining emerging technologies, specifically algorithmic decision-making and artificial intelligence."
Irving, who grew up in a working-class neighborhood in New York City, headed to Washington, D.C. after graduating from Stanford Law School. His first job was with the firm Hogan & Hartson, where he practiced media and telecommunications law. Leland, a Houston Democrat, hired him to work on the Hill after he became chairman of the House Subcommittee on Telecommunications. After Leland was killed in a plane crash in 1989, Irving went to work for his replacement in that role, Rep. Ed Markey, a Massachusetts Democrat.
It was in those roles, Irving said, that he really began advocating for access for all.
"As recently as the '80s, in some low-income neighborhoods, as many as four in 10, five in 10 households didn't have landlines. They'd have to go to the pay phone," Irving said. "And during the cable revolution (of the '90s), redlining of low-income neighborhoods was developing. So, the question of the dispersion of technology and access was something I was already predisposed to be concerned about."
He joined the Clinton-Gore transition team in 1992, and was appointed in 1993 to head the Commerce Department's National Telecommunications Infrastructure Administration under Ron Brown, becoming one of the administration's key architects of Internet policy.
The Clinton Administration, Irving recalls, was committed from the start to connecting every school and library to the Internet. And Irving says he realized just how much of a challenge that was going to be when he and Brown went to visit a few schools in California.
The first was in Cupertino, he said, a relatively non-diverse, almost all-white, upper middle-class school.
"The kids were sitting at a table with brand new network iMacs," he said. "Later that day, Ron Brown and I went up to a school in Hunter's Point in San Francisco, a predominantly black and Latino low-income area, where a majority of kids were on the school lunch program. Most of those kids didn't even know that a computer existed."
"You can tell that story million times," Irving says, but to influence policymakers he knew he needed data. So, he set about getting the census to add a question about computers and connectivity, which enabled his department to quantify for the first time the U.S. communities and populations that didn't have Internet access.
His subsequent series of reports, Falling Through the Net, showed that the Americans least likely to have Internet access were those who could least afford to fall further behind, including minorities, low-income families, rural residents single parents and the elderly.
Irving's data helped provide support for legislative initiatives such as the E-Rate program that provided subsidies for schools and libraries to connect to the Internet and NTIA's Telecommunications and Information Infrastructure Assistance Program (TIIAP), which helped connect hospitals, libraries, police cars, fire fighters and other public entities to the Internet.
At one point, Irving said, the TIAAP program became one of the most competitive grant programs in the federal government.
Irving was also instrumental in crafting the 1996 Telecommunications Act, which helped provide funding to connect schools.
Irving concedes a lot of his success was due to the unwavering commitment of Al Gore and the Clinton Administration to making sure everyone had access to the network.
Every week, he said, Gore held a meeting with cabinet officials and others to talk about telecom policy and the Internet.
"I don't think there has ever been another time where every week for 90 minutes there was a discussion at the White House of connecting people who were not connected," Irving said.