March 8 is International Women's Day, celebrating the social, political, economic and cultural achievements of women worldwide.
That's why this month, the Internet Hall of Fame is spotlighting three of its most recent inductees who have led the way in inspiring, aiding and promoting the accomplishments of women whose careers – or future careers – revolve around computer science, Internet networking and Information and Communications Technology.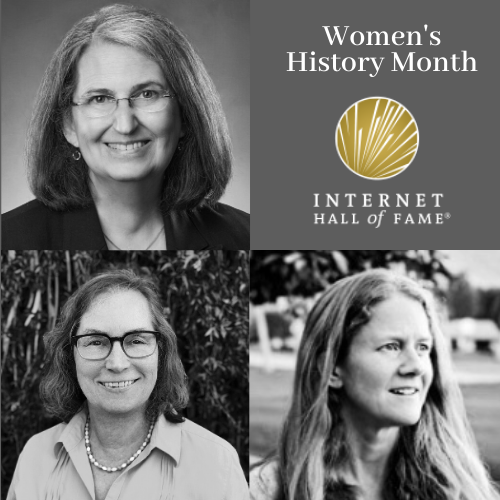 Dr. Kimberly ("kc") Claffy, Elise Gerich and Jean Armour Polly, all 2019 inductees into the Internet Hall of Fame, recently reminisced about their own careers, and shared words of encouragement for girls and young women who are considering careers in tech.
Not all of them took the most direct route to the Internet Hall of Fame.
Polly, a librarian, majored in Medieval Studies as an undergrad, earned a Masters of Library Science degree, and hoped to spend her career working with rare books. But she was a risk-taker. In 1981, when she learned at a library conference about computers being used by students, she successfully pushed for her own small library to acquire one. Her curiosity and fearlessness then led her to evangelize at library conferences nationwide about how libraries can and should be connected to the Internet. She also wrote highly influential articles explaining not only how, but also why, they should do that. Then, as now, most librarians were women, and many were inspired and convinced by her enthusiasm to get their libraries connected to the Internet. And today, public libraries everywhere offer Internet access as a core service.
Similarly, Elise Gerich also wasn't a computer scientist or enthusiast from the very start. But she was a quick learner. A planned career in her undergraduate major – teaching French – morphed into a position at the new Michigan Education, Research and Information Triad (Merit) team that would build the National Science Foundation Network (NSFNet)'s original T-1 backbone. She proclaims that she arrived at Merit "clueless" about networking, but thanks to her colleagues – four of the seven on her team were women ­– she quickly got the hang of it. Gerich eventually guided the transition from the NSFNet to commercial Internet providers, and later planted the seeds that became the Network Operators Groups in dozens of countries. Then she led the successful transition of control of the Internet's unique names, numbers and parameters from the stewardship of the U.S. government to an international, multi-stakeholder community.
In stark contrast to Gerich and Polly, a tech career was Dr. Claffy's goal right from the start.
"Even as an undergrad, I knew that the Internet would change the world," she said, "and I was excited by that. I was determined to devote my career to advancing it and making it safer and more robust." She's been doing just that. As founder and director of the Center for Applied Internet Data Analysis, she and her team of researchers have taken on the project of measuring and analyzing nothing less than the complexities of the hardware, software, and transmission media that connect users and provide the information that make up all the websites, applications and content on the Internet.
"What advice would you give to girls and young women considering computer science or Information and Communications Technology as a career?" we asked these Hall of Famers.
They had plenty.
Polly: "Stay curious! Complacency is the enemy. And don't give up at the first disappointment, rejection, or 'No.' Find a way to get to 'Yes.'"
Claffy: "The earlier you get involved, the better. The 'CyberFirst Girls' competitions in the U.K. are an example of a great way to learn, network, and gain confidence. In the U.S., there's Girls Who Code. Find a mentor. I was lucky to have amazing mentors along the way. If you're an undergrad or grad student, look for funding specifically for women in the STEM (science, technology, engineering and math) fields. It's out there."
Gerich: "Know when to stand firm and when to compromise … and how to do both diplomatically. Being collaborative and cooperative does not mean being a doormat. Sometimes it is difficult to find that balance between promoting your ideas and knowing when it's time to back off. But continually look for that balance."
Today, as girls and young women worldwide begin to consider a technology-related career, these Internet Hall of Famers stand as role models…and all three are pulling for them.