By the late 1990s, he and his wife, Jane Frank, had amassed the largest collection of science-fiction and fantasy art in the world. The Frank Collection held works of master science fiction and fantasy artists including Jim Burns, Bob Eggleton, Barclay Shaw, and Donato Giancola. At its peak, the collection held approximately 750 works of art.
"I started out as a kid reading science fiction books," said Dr. Frank. "The first ones were read to me by my father."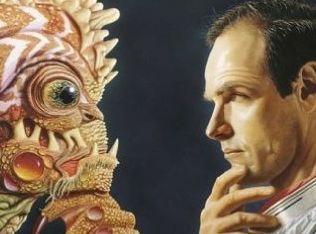 One of his favorite books was "The Radio Man," written by author Ralph Milne Farley. "It was about an Earth man, a radio engineer, who was transported to Venus," Dr. Frank happily recalled.
Farley went on to write several other books as part of The Radio Man series. "Ralph Milne Farley was his pen name," said Dr. Frank, pointing out that the author was, in fact, Massachusetts state Senator Roger Sherman Hoar. "I learned to read so I could read those books. By the time I was in the seventh grade, I was reading at high-school level. I built a huge collection of books."
Then, he met his wife. "We started going to science-fiction conventions," said Dr. Frank. "We started buying art. We could only afford modest amounts at the time. But, we slowly began collecting."
By the mid-1980s, they were buying 30 to 40 pieces a year. "We did that for 20 years," Dr. Frank explained.
Today, Jane Frank is an accomplished art dealer, writer and lecturer on science fiction and fantasy art. Among her published works, she authored, "Science Fiction and Fantasy Artists of the Twentieth Century: A Biographical Dictionary," "The Art of Richard Powers" and "The Frank Collection: A Showcase of the World's Finest Fantastic Art."
Now retired, Dr. Frank says many of the technological advancements predicted in great works of science fiction art and literature of the past are a reality. "Look at some of the works of the 18th and 19th century," Frank said. "Voltaire wrote a book about a being from Saturn who has come to Earth," he said, referring to Voltaire's influential work "Micromégas."
"Sir Arthur C. Clarke wrote about the first satellite communications in the 1940s," noted Dr. Frank, and many powerful computers, including the notorious, sentient computer HAL 9000 in "2001: A Space Odyssey."
Clarke is also famous for predicting a system very much like the Internet – computers enabling people to work and communicate with one another from anywhere on the planet – Dr. Frank added, decades before its introduction to the masses.
Works from The Frank Collection may be viewed online at the Heritage Auction Gallery.
You can read more about Dr. Frank's own contributions to science in an interview the Internet Hall of Fame conducted with him recently.