Susan Estrada: Find your power. You are smart or you wouldn't be in tech. You are tolerant or you wouldn't be able to cope with your coworkers. You are a person who dared to be one of a minority – you already know you have power and confidence. Embrace your power. Find a colleague, male or female, who can be a supporter, a challenger, one that helps you embrace your power. They are out there, although sometimes they might be hard to find. In my case, I had two male bosses at different points of my career who guided me, encouraged me to make my own decisions and take the risks and rewards that were part of those decisions.  People may not want you to succeed – some because you are a woman. And, if you are able to hire people, make sure that a fair amount of them are women. And, be good to your sisters in tech. 
Dorcas Muthoni: It is what it is. A largely male tech world. Take it as it is and ensure you build your relationships and support across men and women. I have found that you can find exceptional support once you put your foot forward and people appreciate your capacity and capabilities.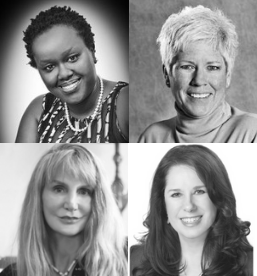 Tracy LaQuey Parker: If you find yourself in a male-dominated environment, seek out any other women (within your organization or outside of it) to get and to give help. There are so many groups and resources now, so much more awareness. One of the best things I did was join a women's leadership group, it literally changed my life. All those women were so inspirational and helpful, it was very healing and affirming.
Be aware there are specific dynamics of male-dominated groups and try to understand how you behave in those environments. Don't judge yourself, just be aware if you are acting or feeling differently than you would if there were more women around. Your contributions are valuable no matter how you are feeling. Women have very valuable perspectives and we need to communicate them.
Yvonne Marie Andres: Never be afraid to follow an unselfish vision. I am very proud to share that last week I reunited with a former Global Schoolhouse student from 1993. She tracked me down after 25 years, to tell me how much I inspired her to become the successful woman that she is today. Her words to me were, "As a shy female of color and the daughter of immigrant parents, watching how you weren't afraid to figure things out gave me the confidence to accomplish anything I wanted to." This beautiful woman is now a PhD and doing her own ground-breaking work with first nation communities.