A graduate student in electrical and computer engineering at Drexel University, Li was studying signal processing. "Electrical and computer engineering was not the first department connected to the Internet," he says. "Rather, math and computer science was connected. I heard about email from some of those students and approached a professor to give me an account. I paid AT&T lots of money for phone calls until we started sending this new thing called email that was much better than telephone and letters. It was instant and free."
That Li was interested in the ability to send information across the world was no surprise. As a quiet child growing up in Beijing, Li had built electronics with his hands, fabricating amateur radios and constructed other devices during his free time. His family and friends snapped up the converters he assembled to translate channel frequency from the color television band into black and white. Now they could watch both television channels available at the time.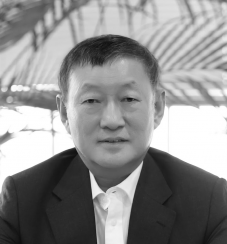 To formally study electronic engineering was a dream for Li, but one that the Chinese Cultural Revolution of the late 1960s and 70s almost quashed. "I was in middle school during that time. You did what the government told you. After high school, I worked in a factory for three years because the universities had stopped giving entrance exams. But I earned good experience as a petro-mechanical factory bench worker, using my hands to repaired machines for the oil industry."
Fortunately, Li did eventually gain entry into Beijing's Tsinghua University. In 1982 he earned his degree in radio electronics, then headed to the United States to complete his Masters in ultrasound signal processing in 1985 and PhD in 1989.
His first impression of the Internet at Drexel was that it would change not only his work – because now scholars from around the world could share ideas and research – but that it would revolutionize the world by giving access to software, information and communication at no or low cost.
"I knew that the Internet could be a little bit of what it is today. I was working on multimedia communication at Drexel. Though the Internet was only plain text, I knew even at that time, being in electrical engineering and with my background in radio signal processing, that images and sounds would be sent eventually – that the Internet would be multimedia enabled. But I didn't have the imagination at the time, not being a businessman, to realize the electronic commerce we would now do in everyday life. But I took my knowledge back to China to help make China Internet enabled."
He returned to Beijing in 1991 to teach at his undergraduate alma mater, and to the unhappy reality that there was no Internet access at all in his home country. So he started telling everyone he met how great this new technology was.
"I shouted a lot about it. Three years later, the government started to realize how important the Internet was. They formed a team to work on creating it in China. The president of the university also had a similar vision and had formed our own team. We developed what would become CERNET, the China Education and Research Network, to connect more than 2,000 Chinese universities and eventually 320 million students," he says.
Li started the first IPv6 testbed in China in 1997 and he was the principal architect of CERNET2 in 2003, linking more than 500 universities via an IPv6-only network, the largest IPv6-only network in the world and a response to the lack of available unique addresses in the previous IPv4 network. He was also the driving force behind establishing the China Next Generation Internet Exchange Center (CNGI-6IX), the IPv6 exchange point linking China with the global Internet. He is also one of the major contributors in IETF for the IPv4/IPv6 translation technology.
Another achievement Li recounts is that as a Drexel student, he wrote an application to display Chinese Hanzi characters on early Apple Macintosh operating systems. He did this so that he could read Chinese versions of electronic journals. He then uploaded the code as freeware. The code found an eager audience. When he returned to China, he says he found his code being used as a Mosaic plug-in for Chinese articles.
Li's decades of pioneering work developing the Internet in China and his active participation in multiple global organizations to support Internet growth has brought together experts inside and outside China to share ideas and information on networking, including APNG, APIA, APNIC, APAN, CCIRN and IAB. Recently, his interest has extended more broadly. The Bright Internet Project Consortium named him the winner of Bright Internet Award in 2019. This honor recognizes scholars whose achievements and contributions in the field of management information systems promote a more sustainable, secure and trustworthy Internet.
Li thinks this is a critical time for the Internet. "We have to avoid a split and fragmentation of the Internet, because there are lots of things blocking access – political, technical, etc. I don't like the idea of centralization, either. I've always believed in the concept of a single Internet, no matter where located or what technology used. The Internet needs to remain distributed just like it was originally, not controlled by corporations or governments. It should evolve because we don't want ossification. Privacy is also very important when we are online, and it is very challenging in China and globally. But history is long, and I believe it will all work out."