"It's great to know how to get connected to the Internet, but then you have to know what to do with it," says Quaynor, a computer science professor at the University of Cape Coast in Ghana. "In Africa, we need Internet entrepreneurs, not just Internet users."
There is a 1.2 billion-person market that exists on the continent. "We should be reaching them with products and services that are produced here," Quaynor says. And he speaks from experience — he founded and ran Network Computer Services (NCS), the first Internet Service Provider in west Africa. It was doing business of $2.3 million a year and had several thousand clients when, in 2003, a shocking event occurred: The company was shut down in a dispute over the land on which it was physically located. All the company's assets were seized and it had to relocate. But during that fearful time, his clients never lost their Internet connection. The .gh service never went down; Quaynor and his team were able to migrate services to other sites. Today, NCS is survived by a successor company, Ghana Dot Com Ltd., which is an ICANN-accredited registrar.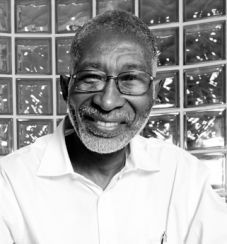 It's due to Quaynor's practical experience, as well as his commitment to expanding Internet connectivity, that in August 2013, he was inducted into the Internet Hall of Fame.
Today, Quaynor is focused on the supply side.
"Africa needs new companies to develop content, apps and software that can create, improve and expand upon products and services. Developing Internet-related industries and helping businesses do robust e-commerce: That is our next frontier," he says.
Quaynor earned his PhD, with a dissertation on distributed systems, from the State University of New York at Stony Brook.  Returning to Ghana, he founded and began teaching in the Computer Science Department at the University of Cape Coast. After attending George Sadowsky's Network Training Workshop in Hawaii in 1995, he came away determined to build a network — and to help people in other developing countries to build their own networks, as well. Sadowsky was inducted along with Quaynor into the Internet Hall of Fame last summer.
In 2000, Quaynor convened the first training workshop for AfNOG, the African Network Operators Group that he'd founded the previous year. As of 2013, AfNOG had trained 2,000 professionals in more than 40 countries throughout the continent. He also helped found and was the inaugural chair of AfriNIC, the African Internet Numbers Information Center, which is one of the five Regional Internet Registries worldwide.
"I remember when we used to have to go to the post office to make phone calls. Now, there are mobile phones all over. So, the Internet in Africa is definitely moving ahead; we just need businesses to adopt it, build on it and discipline it. My hope is that Africa will own its portion of the Internet and will participate on its own terms. But to encourage the growth of industries that develop the Internet, we also must reform our education programs to stress Internet use," he says.
In his Hall of Fame induction speech, Quaynor noted that his goal is to enable people in developing countries to bridge the digital divide.
"The spirit of the Internet is to help other countries – not just your own – to get connected, and to help people understand that they need the Internet, too. That's the spirit of the Internet," he said.
"It takes a whole community to deploy the Internet. I had a networking team – all my top former students – and I galvanized them to develop NCS. But we recognized that we had to train operators in other countries, as well. When I saw that others needed my help, I said, 'Let us have a workshop.' That was the origin of AfNOG."
For pioneering Internet expansion in Africa, establishing some of the continent's first Internet connections and setting up some of its key organizations, Quaynor is often called "The father of the Internet in Africa." But considering his accomplishments, he might better be called "The Internet's Baobab Tree." The baobab, which like Quaynor is native to Ghana, is known as "the tree of life" because of all the benefits it provides. Its leaves are used as medicines. Its fruit is edible and full of Vitamin C and its fire-resistant bark and trunk are used for making clothing and rope. It can store up to 120,000 liters of water. Also, baobabs can reach 36 feet in circumference, which is the origin of the Ghanaian proverb: "Knowledge is like the baobab tree; one person's arms cannot encompass it."
Maybe not, but the Hall of Fame career of Nii Quaynor, who has provided so many benefits to Africans, has encompassed an entire continent.
Learn more about Nii's work and view his acceptance speech.