It's really amazing for me to realize that this IXP, formally called the Bangkok Internet Exchange Point (BKNIX), had its impetus at the Internet Society's 2013 Internet Hall of Fame induction ceremony in Berlin.
Although I was among those being inducted that day, for me the most exciting part was meeting many ISOC officials and fellow inductees who offered to help me. Here was the problem: The Internet in Thailand has evolved greatly over the past 25 years, and many for-profit Internet Service Providers (ISPs) have sprung up, but communication among them was expensive and inefficient. Since they used older technology, if you were a customer of one of them, and were trying to reach a customer of another – even if that person was just across town – you had to go through several "hops." The ISPs were interested in working together but were unable to move on to a better setup because it wasn't financially or technically easy for any of them to run an IXP. What was needed was a "neutral party" that wouldn't favor one ISP over any other, and that could help create trust in the community.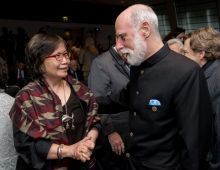 And, now we have it! I explained the problem to several people at the induction ceremony, and drew intense attention from ISOC. From that moment on, the whole thing started to roll. ISOC staff offered to talk with Alcatel-Lucent and Cisco – worldwide leaders in providing equipment for IP and cloud networking ­– as well as access to service providers and their customers. Alcatel responded by providing us with state-of-the-art 7750 switches. Using these switches and Cisco's ASR 1002's and Nexus 7000 series switches, ISPs and content providers can now diversify local and regional peering and data exchange, so the residents of our part of the world have wider access and more reliable service.
It didn't happen overnight. There were about 50 people who got involved in the project, each one contributing vital input. I want to single out two of my fellow Internet Hall of Famers: Randy Bush, founder of the Network Startup Resource Center (NSRC) and network researcher at Internet Initiative Japan (IIJ) Research, Japan's first commercial ISP; and Steve Huter, the director of the NSRC. Randy, together with Philip Smith from the Asia-Pacific Network Information Centre (APNIC) at that time, gave us valuable technical advice on how to get started, and actually came to Bangkok to guide us along.
This IXP will help all sectors of society in Southeast Asia — education, technology, business, healthcare, and more. Southeast Asia is a rapidly emerging area that includes some of the heaviest users of social media in the world. But as a professor of computer science at the Asian Institute of Technology, I am especially happy to note that today, all our universities can peer with each other via the IXP, and they have only one "hop" to connect in a fast, robust way. Geographically, Thailand is in the center of the region, but Myanmar, Cambodia and other neighboring countries will be able to use this IXP as well.
I talked about my dream with some of the good people at the 2013 Internet Hall of Fame induction ceremony, and I found more than I could ever have imagined. It's really incredible what the vision of ISOC, the innovation of Alcatel-Lucent and Cisco, and the trust that was built among a team of amazing individuals have produced. Again, my thanks to one and all.