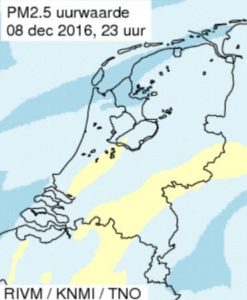 Retired for nearly a decade, Hagen says one of his "hobbies" is environmental activism.
Now a resident of southern Holland, near the Phillips GrowWise Center that was established to develop models for urban farming, Hagen says he is committed to gathering data for environmental protection.
"I do a lot of things in this area," he said. "To try to wake up the politicians about the unhealthy state in which we live."
Hagen says he collects data from all over Holland, and posts it on a website to show the true state of environmental pollution as measured under the international Air Quality Index followed by the United States and China.
"The website provides charts and graphics for environment pollutants in the agricultural environments in the whole of the southeastern part of the Netherlands and neighboring Germany border," Hagen says.
"The data originates from governmental measurement stations. Charts and graphics are calculated into the international Air Quality Index. The graphs enable the user to compare the situations over the years and warns about recent air quality. The graphs are unique as they show in an easy and understandable way the air quality in opposite to the complex EU norms, which are incomplete, and not up to date to the current standards used in environmental research."
Read the Internet Hall of Fame's recent interview with Teus Hagan to find out more about his historic Internet contributions.