Representing 13 countries, the 2014 class of inductees created new technologies and standards that were foundational to the Internet's development and expansion, pushing the boundaries of technological and social innovation to connect the world. Read the full press release.
"We all benefit today from the contributions of these individuals, who helped shape the global Internet," noted Internet Society CEO Kathy Brown. "They forged into uncharted territory with innovative ideas, groundbreaking technologies, and collaborative work to connect more people and countries to the Internet. We are delighted to honor these leaders for their foresight, creativity, dedication, and achievements."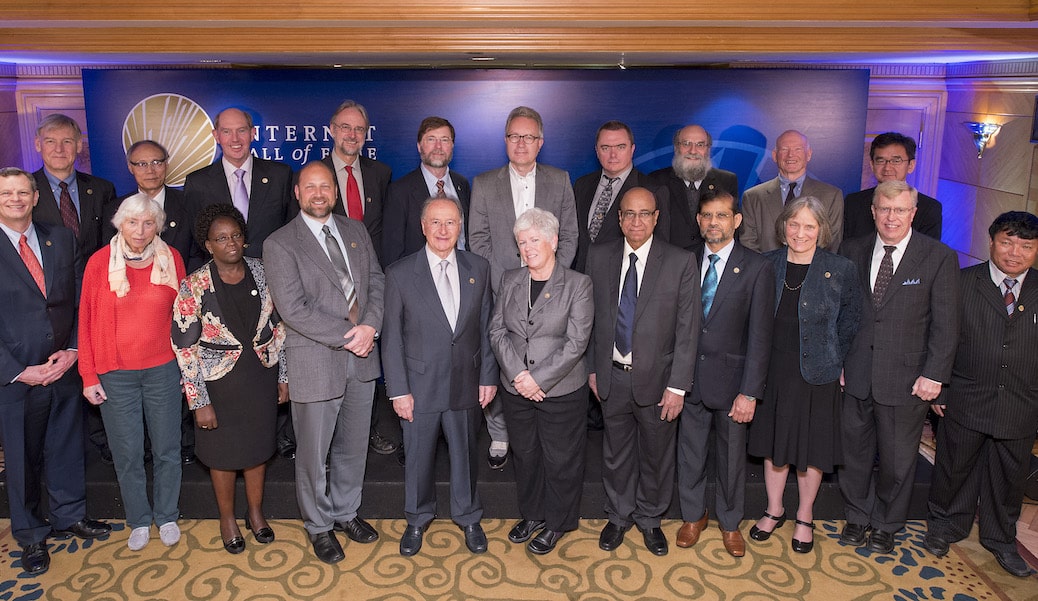 Internet Hall of Fame inductees fall into three categories: Pioneers were integral to the early design of the Internet; Innovators built on that foundation through technological, commercial or policy advances; and Global Connectors helped expand the Internet's growth and use around the world.
Over the next 12 months, the Internet Hall of Fame blog will chronicle the contributions and insights of these individuals, outlined below, in a series of exclusive interviews.
Pioneers
Douglas Engelbart (US)(posthumous)
Susan Estrada (US)
Frank Heart (US)
Dennis Jennings (Ireland)
Rolf Nordhagen (Norway) (posthumous)
Radia Perlman (US)
Innovators
Eric Allman (US)
Eric Bina (US)
Karlheinz Brandenburg (Germany)
John Cioffi (US)
Hualin Qian (China)
Paul Vixie (US)
Connectors
Dai Davies (UK)
Demi Getschko (Brazil)
Masaki Hirabaru (Japan) (posthumous)
Erik Huizer (Netherlands)
Steven Huter (US)
Abhaya Induruwa (Sri Lanka)
Dorcas Muthoni (Kenya)
Mahabir Pun (Nepal)
Srinivasan Ramani (India)
Michael Roberts (US)
Ben Segal (US)